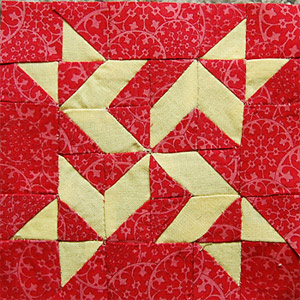 This is block 52: Whirling Pinwheel. When sewing it, I found it resembled a swastika, a symbol which is illegal in germany. Just yesterday,
Martin
wrote, that quite a high german court ruled on friday that showing a stylized celtic cross is a crime in germany now, too.
The reason the court gave was that neonazi organizations would use it as a legal replacement for symbols like the illegal swastika, and it would be a solution of that problem to criminalise the symbol which replaced the swastika as well.
I don't really mind if the swastika is illegal or not here, because I don't use it anyway - but I don't like it that the symbol of a celtic cross can't be shown in public anymore. Really, that's letting those neonazis have the right to define which symbols are neonazi symbols and which ones aren't, and that's giving those neonazis the chance to make any symbol they like unusable.
A celtic cross is certainly not a nazi symbol and if some neonazis use it as their symbol, that's really bad enough. If that's illegal, well, that doesn't hurt the neonazis, they will find something else to use. It hurts the people who use it like celtic rock bands or pagans.
Well, ok... I guess I also forgot to post this block:
This is Nr. 29 - Grandmothers Tulips.
I used different green fabrics and I really like the spiral in the middle.